FAQ - Frequently Asked Questions
Q: What forms of payment do you accept?
A: We accept cash or check.
Q: Are you a franchise?
A: No. We are a locally owned and operated business out of Naples, Florida.
Q: Do you move all of my furniture?
A: We can move small furniture such as coffee tables, small nightstands, dining room chairs,
etc. We
do not
move entertainment centers, beds, sofa beds, or oversized/sleeper couches.
Q: Will dryer vent cleaning make my dryer dry faster?
A: Yes. Cleaning the excess lint out of your dryer, vent, and hose will allow air to pass more freely, therefore making your dryer more efficient.
Q: How soon can I walk on my carpet once it is cleaned?
A: You can walk on your carpet right away with the free shoe covers that we provide.
Q: Are spot cleaners with peroxide/oxy safe for my carpet or rug?
A: No. Spot cleaners with peroxide/oxy cause bleaching or yellowing that will be permanent. We provide a safe spot cleaner free of charge to use in between cleanings.
Q: How often should I have my carpets cleaned?
A: Warrantee companies require you to have your carpet
steam cleaned
yearly. However, we recommend every six months for households with pets and children, every nine months for households with pets OR children, and every year for households without pets or children.
Q: Will my carpet re-soil quickly once it has been cleaned?
A: To help ensure that your carpet will stay cleaner longer, we suggest that a protector be put onto your carpet once it has been professionally cleaned. We offer a product called teflon. It will help your carpet resist stains, stay cleaner longer, and make it easier to clean in the future.
Q: How far in advance should I call to schedule my appointment?
A: Usually we have appointments open within a few days, depending on season. However, if you would like a certain day and time, we recommend that you call at least one week in advance. Our busy season is from late October to early May.
Q: How fast will my carpets dry?
A: Carpet dries the fastest when air conditioning is on and set at or below 75 degrees fahrenheit. Also, it is best to turn ceiling fans on after cleaning. This should ensure that your carpet dries safely within 4-8 hours. You can walk on it right away with the free shoe covers we provide.
Q: Is there anything I should do before my carpet/tile gets cleaned?
A: Yes there is. Please click the
"Before and After..."
page to see what you can do.
Q: Do you ever have coupons or special offers?
A: Yes. Look for our coupons occasionally in the Sunday edition of the Naples Daily News coupon insert.
Another great way to see our specials is to like us on Facebook.
Q: How do I know how much my job will cost?
​A: The best way to get an estimated job cost would be to call our office at (239) 592-9111.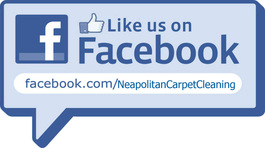 ---